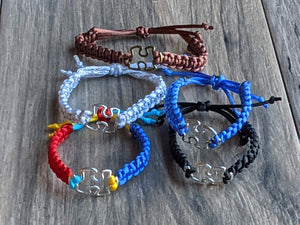 A new adjustable bracelet!  While our previous are made with faux suede, this new style is made in what is referred to as "mouse tail" cord.  The cord itself nylon with a satin feel and is approximately 1/8" before braided in a macrame style.  

Each features a silver puzzle piece connector.
Color choices are royal blue, black, multi-color (autism colors) and white with silver threads.

**AND NOW A NEW FIFTH OPTION - brown cord with a bronze puzzle piece**
They are easily adjustable from approximately 6" to just under 10".
These are more time consuming to make and therefore are a higher price than our standard faux suede bracelet or our bangle bracelets.
__________________________________________________________________________________________
ABOUT JOURNEY TO JACOB'S LADDER:
Jacob is a young man with autism who has aged out of the public school system. Despite years of vocational training, he was still considered "unemployable". As a result, we have created a home based online sales business to provide Jacob with a meaningful and purposeful life after school.
The business name is Jacob's Ladder. We have created a Facebook page to chronicle the process of training Jacob in various aspects of an online sales business. It is called Journey To Jacob's Ladder. Please feel free to join us on the journey!