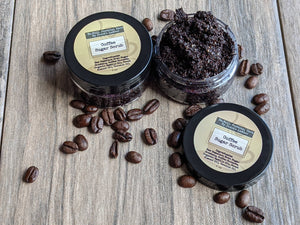 A customer seasonal favorite has returned - coffee sugar scrub!
Made with raw demerara sugar crystals and organic coffee grounds, it serves up the divine coffee wake up scent along with powerful exfoliating properties.  It comes in a 2 oz plastic jar and would go great with our coffee soap and coffee lip balm - perfect gifts for java junkies! 
Ingredients:
Raw demerara sugar, organic coffee grounds, organic castile soap, coconut oil, sweet almond oil.

ABOUT JOURNEY TO JACOB'S LADDER:
Jacob is a young man with autism who has aged of the public school system. Despite years of vocational training, he was still considered "unemployable". As a result, we have created a home based online sales business to provide Jacob with a meaningful and purposeful life after school.

The business name is Jacob's Ladder. We have created a Facebook page to chronicle the process of training Jacob in various aspects of an online sales business. It is called Journey To Jacob's Ladder. Please feel free to join us on the journey!