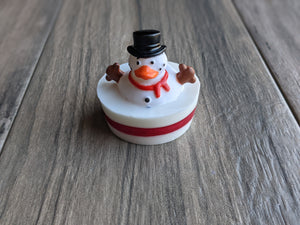 A Christmas version of our very popular rubber duck soap - snowman ducks!
Not only are these items a hit with the kiddos because they are cute, but we've been receiving feedback that they are enabling people (both littles and bigs) to bathe independently.  The reason for that is they are able to grip the soap by the rubber duck, which makes it easier to use than trying to hold a slippery bar of soap.  That makes us so happy that we have decided these items - originally only an Easter offering - will now be offered throughout the year in different versions.

These awesome snowman ducks are set in a white soap base with a red strip in the middle.  They are available in unscented and peppermint
Each snowman-duck soap weighs just over 3 oz.
INGREDIENTS: Detergent free (no sulfates or parabens) melt and pour clear glycerin soap base, coconut oil, pure essential oil (unless unscented is chosen) and oxide powder for color.
ABOUT JOURNEY TO JACOB'S LADDER:
Jacob is a young man with autism who has aged out of the public school system. Despite years of vocational training, he was still considered "unemployable". As a result, we have created a home based online sales business to provide Jacob with a meaningful and purposeful life after school.

The business name is Jacob's Ladder. We have created a Facebook page to chronicle the process of training Jacob in various aspects of an online sales business. It is called Journey To Jacob's Ladder. Please feel free to join us on the journey!