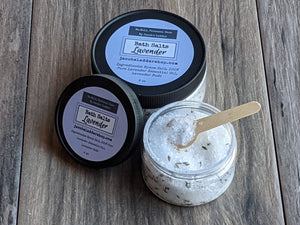 It's been a long day and you're ready to calm your body and relax your mind. Grab that book and get some "you" time by soaking in a warm bath, mixed with our bath salt blends to help improve skin health, restore mind, body and mood. 
Available in 4oz  jars, supplied with a wooden measuring spoon, our bath salts and scent blends with botanicals are created with powerful healing and health in mind, mixed with food grade ingredients and natural dyes. 
Lavender, mixed with lavender buds and essential oil, can promote relaxation and stimulation of new skin cells.

Lemongrass, mixed with dried lemongrass and essential oil, can be antibacterial in nature while stimulating circulation. 

Peppermint oil mixed with a bath tea blend of spearmint, rosemary and juniper, offer astringent properties and mental stimulation.

Citrus Blend with calendula leaf, mixed with grapefruit and lime essential oils known to help boost the immune system and soothe muscle spasms. 
Ingredients:
~Epsom Salts
~100% pure essential oils
~Botanicals
The following botanicals are included in the bath salts:

Lavender - lavender buds
Lemongrass - dried lemongrass
Peppermint - a bath tea blend of spearmint, rosemary and juniper
Citrus - calendula leaves or orange peel granules
_______________________________________________________________________________
ABOUT JOURNEY TO JACOB'S LADDER:
Jacob is a young man with autism who has aged out of the public school system. Despite years of vocational training, he was still considered "unemployable". As a result, we have created a home based online sales business to provide Jacob with a meaningful and purposeful life after school.
The business name is Jacob's Ladder. We have created a Facebook page to chronicle the process of training Jacob in various aspects of an online sales business. It is called Journey To Jacob's Ladder. Please feel free to join us on the journey!