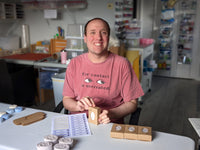 Welcome to Jacob's Ladder
Journey to Jacob's Ladder was formed as a training and employment opportunity for Jacob (who has autism) when conventional methods did not result in employment.
Our aim is to build a business to provide purpose and meaning to Jacob's life now that he has aged out of the school system. Our subsequent long term goal is to offer items that are made by other individuals with "unique abilities" and to possibly offer them employment as well.