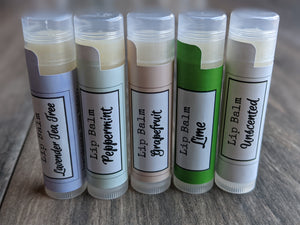 Kissable, nourished and glossy lips ahead! Deeply moisturize and heal chapped lips with our all-natural lip balm. Using beeswax and coconut oil, our lip balm is chemical free and therapeutic to help promote soft and supple skin that lasts. Available in .15oz shrink-wrapped twist tubes, which Jacob has mastered filling! 
Scented options of mint, lime, grapefruit, lavender tea tree and unscented.

Our great smelling scents are created with powerful healing and health in mind, mixed with food grade ingredients and pure essential oils.

Peppermint has been known to support mental stimulation and leaves that fresh, clean feeling.

Lime has antibacterial properties, without the tart on your tongue.

Grapefruit is a refreshing hint of citrus known to lift lethargy.

Lavender / tea tree oil combined for a powerful antibacterial and antiviral quality to help soothe and calm your senses. 

Unscented and filled with the emollient qualities and benefits of beeswax, coconut oil and shea butter.
INGREDIENTS: Organic Beeswax, Organic Coconut Oil, Unrefined Shea butter, and 100% pure essential oils
Though the weight may vary slightly, the average weight of each tube is .15 oz.
________________________________________________________________

ABOUT JOURNEY TO JACOB'S LADDER:
Jacob is a young man with autism who has aged out of the public school system. Despite years of vocational training, he was still considered "unemployable". As a result, we have created a home based online sales business to provide Jacob with a meaningful and purposeful life after school.
The business name is Jacob's Ladder. We have created a Facebook page to chronicle the process of training Jacob in various aspects of an online sales business. It is called Journey To Jacob's Ladder. Please feel free to join us on the journey!