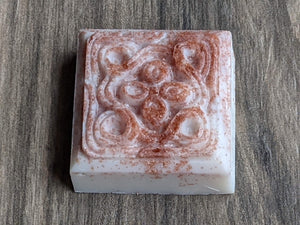 Luxurious sea salt soap...
Made with a sulfate/paraben free goat milk soap base, we've added both pink and red alaea sea salt.  Scented with grapefruit essential oil, each features a brocade design (will vary).

This listing is for one (1) bar.
Soap Detail:

~Melt and pour base goat milk base.

~Organic, non GMO Vitamin E oil for extra moisturizing

~Sulfate (SLS) and paraben free

~Scent from pure therapeutic grade essential oils

~Weight can vary, but each bar averages approx 4 oz.

ABOUT JOURNEY TO JACOB'S LADDER:
Jacob is a young man with autism who has aged of the public school system. Despite years of vocational training, he was still considered "unemployable". As a result, we have created a home based online sales business to provide Jacob with a meaningful and purposeful life after school.

The business name is Jacob's Ladder. We have created a Facebook page to chronicle the process of training Jacob in various aspects of an online sales business. It is called Journey To Jacob's Ladder. Please feel free to join us on the journey!