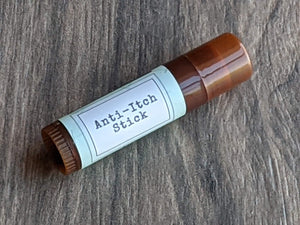 Sometimes a pesky mosquito gets past our line of defense repellents - and if that happens, this anti itch stick is for you!

Packed with skin soothing ingredients formulated to lessen the pain and itch of insect bites.

***The thick nature of this product, particularly the raw honey, makes is susceptible to softening in the heat, which can then prevent the tube from twisting up or down. For this reason, we suggest storing it in a cooler when outside.  If your tube has already softened and will not twist up or down, simply place in the refrigerator to harden and it will then function propertly.****
Each tube contains 1/2 oz which is over 3 times the amount in a typical lip balm tube.
INGREDIENTS: beeswax, organic cocoa butter w/ rosehip oil, organic mango butter, organic tumanu oil, vitamin e oil, organic raw honey, calendula flower powder, colloidal oatmeal and 100% pure lavender, frankincense, peppermint, tea tree and lemon essential oils
______________________________________________________________________________________________
ABOUT JOURNEY TO JACOB'S LADDER:
Jacob is a young man with autism who has aged out of the public school system. Despite years of vocational training, he was still considered "unemployable". As a result, we have created a home based online sales business to provide Jacob with a meaningful and purposeful life after school.
The business name is Jacob's Ladder. We have created a Facebook page to chronicle the process of training Jacob in various aspects of an online sales business. It is called Journey To Jacob's Ladder. Please feel free to join us on the journey!