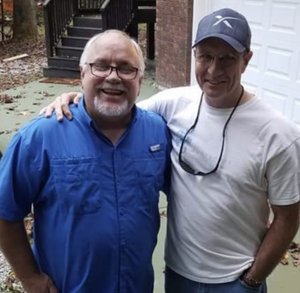 This is a donation option we created to honor our dear friend Joe, who unexpectedly passed away in March of last year. 
Joe was passionate about showing the love of the Lord to all he met.  After visiting central America on mission trips, he fell in love with the people of El Salvador and was stricken by the fact that many of the children there do not have shoes.  Since that time, he collected over 10,000 pairs of new and like new shoes to donate to those children.  He also continually talked to others about visiting and experiencing the love the El Salvadorian people showered on him during his trips there.  One of those people was Jacob's Dad, Brian. He began accompanying Joe on those trips in 2015 and he was changed forever, also falling in love with the sweet people of El Salvador.  Each year, Joe upped his goal of shoes to donate, utilizing his photography client base - a large network of preschools.  Initially, those going with Joe on the mission trip loaded up huge suitcases with shoes.  Eventually, there were too many and he began shipping them.  The cost to ship each pair of shoes, comes up to just over $1 per pair.
We want to help any way we can to continue this legacy for Joe.  There are those who will continue to collect the shoes, and our goal is to assist with shipping costs.  If you would like to help our family honor Joe's legacy and show love to his family, we would be grateful if you would consider donating to the shipping fund.
When you donate any amount, Joe's family will receive a note with a shoe on it (see first pic) that will have your name written by Jacob.  If you donate $5 or more, we will send that same note to Joe's family, but we also send you a thank you from our family and personally signed by Jacob.
***We are not a 501c3 non-profit, so this donation will not be considered a tax deductible charitable donation***