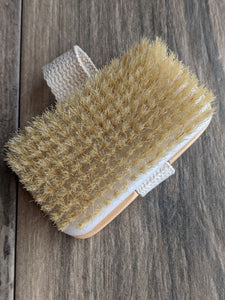 A great addition to our soap line!
This handheld body brush can be used for dry brushing or in the shower. It features natural wood with boar bristles. The back has a strap to prevent the brush from slipping out of your hand.
The brush measures approximately 4" x 2.5" x1.25".
ABOUT JOURNEY TO JACOB'S LADDER:
Jacob is a 21 year with autism who has aged out of the public school system. Despite years of vocational training, he is still considered "unemployable". As a result, we are creating a home based online sales business to provide Jacob with a meaningful and purposeful life after school.
The business name is Jacob's Ladder. We have created a Facebook page to chronicle the process of training Jacob in various aspects of an online sales business. It is called Journey To Jacob's Ladder. Please feel free to join us on the journey!