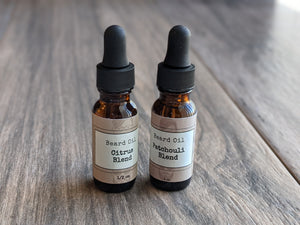 If you have a special bearded man in your life, whose beard could use some tender loving care, then we've got you (and him!) covered. This beard oil features a blend of 6 different essential oils with organic jojoba oil as the carrier.  
This has been tested by a long time bearded dude (thanks Charles!), who describes it as the best beard oil he's used - and he has tried plenty!
Comes in a 1/2 oz bottle with dropper to reduce waste. 

NOW IN TWO SCENTS - Our original patchouli blend and now a citrus blend
PATCHOULI BLEND INGREDIENTS: Organic Jojoba Oil and 100% pure patchouli,  lemongrass, bergamot, rosemary, clove and cedarwood essential oils.
CITRUS BLEND INGREDIENTS: Organic Jojoba Oil and 100% pure orange, grapefruit, lemon, and lime essential oils.
______________________________________________________________________________________
ABOUT JOURNEY TO JACOB'S LADDER:
Jacob is a young man with autism who has aged out of the public school system. Despite years of vocational training, he was still considered "unemployable". As a result, we have created a home based online sales business to provide Jacob with a meaningful and purposeful life after school.
The business name is Jacob's Ladder. We have created a Facebook page to chronicle the process of training Jacob in various aspects of an online sales business. It is called Journey To Jacob's Ladder. Please feel free to join us on the journey!