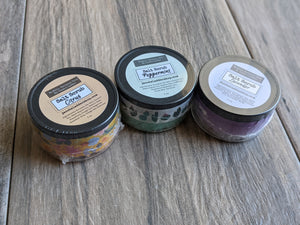 Glowing, soft and nourished skin begins with proper care by first removing hardened, dead skin cells. Left untreated, skin becomes stiff, dull and crusty. Remove dry, flaky skin and unclog pores with beneficial sea salt mixed with oils and botanicals to help replenish tired and dry skin and leave you with that rosy post-scrub glow. 

Available in 2 oz jars, our salt scrubs and scent blends are created with powerful healing and health in mind, mixed with food grade ingredients and natural dyes.

Each blend includes moisturizing coconut and almond oil in these 3 scent varieties.
Lavender, mixed with lavender buds and essential oil, can promote relaxation and stimulation of new skin cells.

Peppermint oil mixed with jojoba beads can provide cooling sensation to relieve itching and reduce pain. 

Citrus includes grapefruit, orange and tangerine essential oils known to help boost the immune system and increase energy
Ingredients
~Sea Salt
~Coconut Oil
~Almond Oil
~Castile Soap
~100% Pure Essential Oils
~Botanicals
~Oxide powder for color
 ________________________________________________________________
ABOUT JOURNEY TO JACOB'S LADDER:
Jacob is a young man with autism who has aged out of the public school system. Despite years of vocational training, he was still considered "unemployable". As a result, we have created a home based online sales business to provide Jacob with a meaningful and purposeful life after school.
The business name is Jacob's Ladder. We have created a Facebook page to chronicle the process of training Jacob in various aspects of an online sales business. It is called Journey To Jacob's Ladder. Please feel free to join us on the journey!