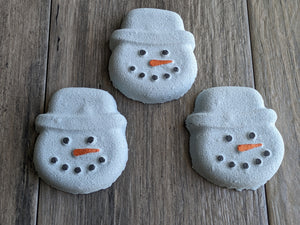 A brand new bath bomb just in time for the holidays!  These adorable snowman are bigger than our usual bath bombs, weighing in at 5 oz. 
We have made them in light blue, instead of the traditional white, to make for a more colorful bathing experience.  We've also included some multicolored embeds inside.  They are scented in our "Sugar Cookie" scent which is a blend of clove, nutmeg, cinnamon & vanilla.
Available unboxed or nestled in crinkle paper in a kraft brown gift box ready for gift giving!
Ingredients: Baking Soda, Citric Acid, Kaolin Clay, Buttermilk Powder, Shea Butter, Sweet Almond Oil, Isopropyl Alcohol, Mexican Vanilla, 100% pure clove, nutmeg and cinnamon essential oils, mica powder for color.
___________________________________________________________________________________________
ABOUT JOURNEY TO JACOB'S LADDER:
Jacob is a young man with autism who has aged out of the public school system. Despite years of vocational training, he was still considered "unemployable". As a result, we have created a home based online sales business to provide Jacob with a meaningful and purposeful life after school.
The business name is Jacob's Ladder. We have created a Facebook page to chronicle the process of training Jacob in various aspects of an online sales business. It is called Journey To Jacob's Ladder. Please feel free to join us on the journey!